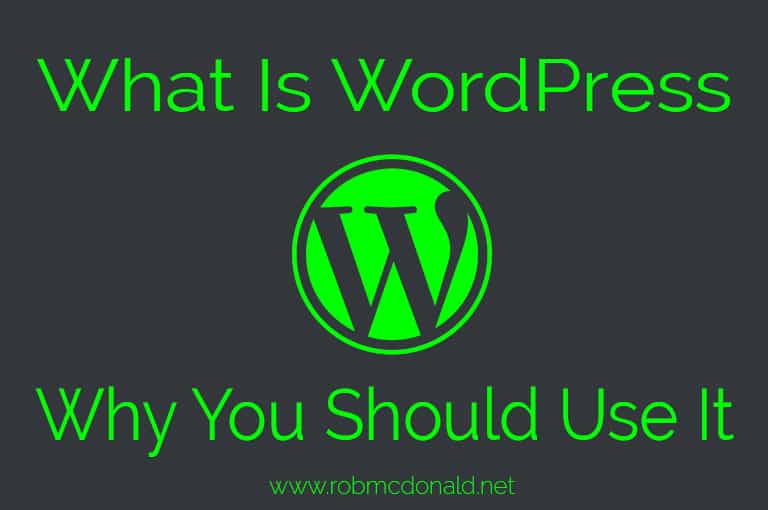 What is WordPress? WordPress is software that is used to dynamically power your website on the internet. It is one of the best alternatives to the old static HTML websites of the past. These sites were often constructed by web developers, hard to update without the developer and often required a developer to maintain.
Gone are the days of the website owner being shackled to the website developer. With WordPress, content can be added to your site as easily as editing a Word document.
Content Management System
WordPress is a content management system (CMS). This means it pulls items that are in a database and spits them out into a web page when called upon to do so by a web browser.
Why is this a good thing? This makes your website easier to use and update by the customer. This makes your website dynamic and not static like older HTML websites.
WordPress Is Easy To Use
The best part about WordPress is that it is easy to use and flexible enough for just about anything. That's one of the biggest reasons it has grown in popularity, powering 25% of the worlds websites.
To run WordPress, all you need is a domain name and web hosting. I recommend that you get your domain name from GoDaddy or Name Cheap. I offer premium hosting, on a private server, but if you prefer to go with shared hosting, I recommend SiteGround.
WordPress Started As A Blog
WordPress started out years ago as a system for personal blogs. Now it has matured into a full blown solution for any of your website needs. Companies like The New York Times, CNN, Forbes, GM, UPS, Best Buy and Sony all power their websites with WordPress. So, whether you are a large corporation or a single blogger, WordPress is flexible enough to adapt.
Search Engine Friendly
WordPress is search engine friendly. WordPress is written using high-quality code that is fully standards compliant and produces an output that is very attractive to Google and other search engines.
WordPress Is Easily Extendable
One of the reasons that WordPress is such an easy choice is that it is easily extendable. There are thousands of free themes to use and any functionality can be added by using a plugin.
WordPress is Safe and Secure
WordPress is developed with security in mind. But just like in the real world, the internet can be a scary place.
There are people out there that want to get control of as many sites as they can. Most WordPress sites use some type of security plugin to help monitor their site from threats.
WordPress Has A Strong Support Community
WordPress is Strongly supported. WordPress has a very strong community of people that support it and keep it going strong. It is open-source software, which means you as a web site owner are in control of who you choose to create, host and manage your site.
WordPress Is Being Continually Improved
WordPress is continually being improved. As WordPress has a large community of users and developers, it is constantly being improved, updated and optimized by thousands of developers all over the world that work on it each day. Since WordPress is the most widely used content management system on the internet, just about any feature you could imagine for your web site has already been built by someone and is just waiting to be installed.
Are You Ready To Use WordPress?
WordPress is very user friendly and can be easily updated by you. I hope this article answered your questions about why you should use WordPress. Give it a try and let me know what you think.